2014-2018
Human Cities / Challenging the City Scale
is a project co-funded from 2014-2018 by the Creative Europe Programme of the European Union. It is a platform of interdisciplinary exchanges of 12 partners led by Cité du Design from Saint-Etienne, born from a concept created in 2006 by the Belgian association Pro Materia. The project explored how  the inhabitants (re) ivent the constantly evolving contemporary city , especially through experiments in the urban space. It worked with people and places like shops, public squares, parks, or streets in towns and cities.
The network gathered 12 organizations from 11 countries: Cité du design Saint-Etienne (FR) – Politecnico di Milano (IT) – Urban Planning Institute of the Republic of Slovenia (SI) – Clear Village (UK) – Zamek Cieszyn (PL) – Association Design Week Belgrade (RS) – Pro Materia (BE) – Aalto University (FI) – FH Joanneum (AT) – Association of Estonian designers (EST) – Bilbao Ekintza (ES) – CultureLab (BE).
The partners included Universities and research centres, design centres and agencies, festivals and design associations. They shared a common goal: to identify practice that challenges the way cities are co-designed.
Occupying vacant buildings to test new ways of working or learning; federating the makers community to contribute to the development of a district; activating and improving the quality of public spaces: these were some of our partners' missions.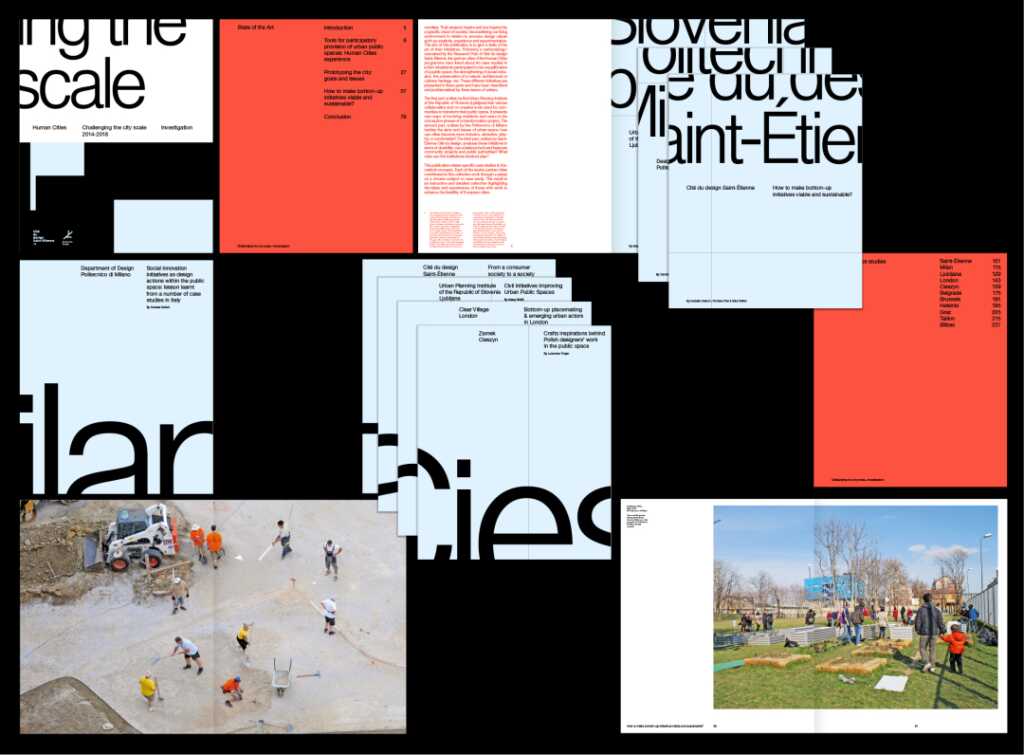 In four years the project has produced a rich programme of activities and outputs:
– an investigation of 90 state-of-the-art case studies, collected in a book Investigation
– 9 co-creative sessions
– 18 experiments in 13 cities
– 12 international workshops and 12 international conferences
– 6 master classes
– 10 exhibitions
– 7 exhibition digital catalogues
– 36 videos
– a final book Challenging the city scale, Journeys in people-centred design and numerous other publications.
It reached more than 700 00 visitors and participants to its cultural activities. Through workshops and experimentations, it involved nearly 1 000 designers, architects, artists, 800 design and architecture students, 1 100 creative professionals and other supporting culture and creative professions (project management, urban planning professional, educational staff) local policy makers, and more than 3000 other participants (inhabitants, shopkeepers, community associations etc.)
The variety of experiments allowed us to learn from each other. International workshops enabled the partners and their associated local creative professionals to travel, test the experimentations, meet their stakeholders, exchange on methodologies and enlarge their professional networks through transnational mobility.
Since its start, the Human Cities project has led to a network of "Human Citizens" distributing their knowledge and skills across Europe and beyond as well, by making use of the network of UNESCO Creative Cities of Design. Human Citizens include residents, architects, artists, students, the unemployed, the retired, and many others. Coming from various backgrounds and driven by different motivations, but sharing similar values, they prove to be the real strength behind bottom-up initiatives. They are often led by leaders and facilitators (many of whom are architects, designers and artists), who bring people together for meaningful conversations by employing various techniques, ranging from theatre and performance to music and cooking.
We expanded this network of Human Citizens even further. It began with Seoul, where the exhibition and a conference with all the partners in September 2018 launched a Human Cities Asia project. By sharing our enthusiasm and experiences through our exhibitions, books, videos and conferences, we realized that we are a European inspirational project and a valuable reference for those inclined to become involved themselves.
Moreover, we want to convince policy and decision makers of the value of these initiatives and inspire them to take action to facilitate them better in the future.