Date:

15.03.2022 – 01.07.2022
OBERZEIRING, UPPER STYRIA, AUSTRIA, UNIVERSITY OF APPLIED SCIENCES, GRAZ
#smoties #smallandremoteplaces #silvermininghistory #leerstand #exhibition #exhibitiondesign #codesign #humancentereddesign
The initial situation – our remote place and its treasures
Since fall 2021, SMOTIES Team Austria has been regularly active in Oberzeiring, a small and remote village in Upper Styria with a rich history of silver mining going way back. This once prosperous community's past can still be seen today in its architectures, and it can also be felt in its collective understanding. Nevertheless, its dwindling importance is clearly noticeable: elaborately and lovingly designed facades are losing their plaster, windows and carved doors are sometimes in urgent need of renovation, buildings stand empty and for the owners renovation is not worthwhile because there is simply no interest or money for it. If something is not done soon, sooner or later these buildings are threatened with demolition, but there is still time to start a process of creating a collective awareness of the qualities of the place and to think together about ways to save these treasures.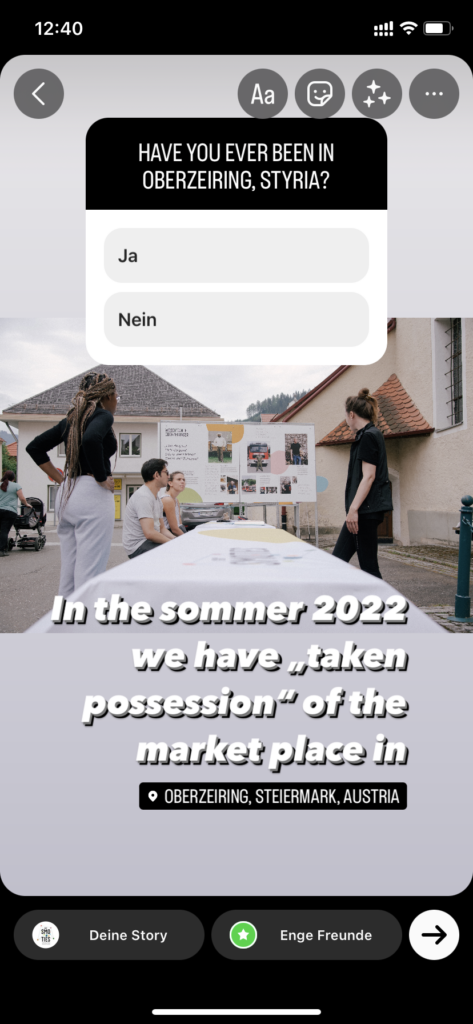 The insight into the rural social fabric
In the spring and summer of 2022, students from the Exhibition Design master's program at the Institute Design & Communication attempted to bring together the special features of the site and the needs of local residents through numerous urban planning and architectural analyses, interviews with residents and spa guests, and co-design activities. Our Local Heroes helped us to get to know especially the numerous associations of the place. This club life, which takes place primarily in the various clubhouses – and thus somewhat difficult to recognize in public space – is the real engine of the place. The phenomenon of "invisibility" has also been intensified in the course of the last few years by the fact that there has been a great death of inns. The members of the clubs now meet only in their own small "social spaces." Informal exchange in a central inn hardly takes place anymore. The most prominent inn on the main square (Market Square) is even open only a few days a week.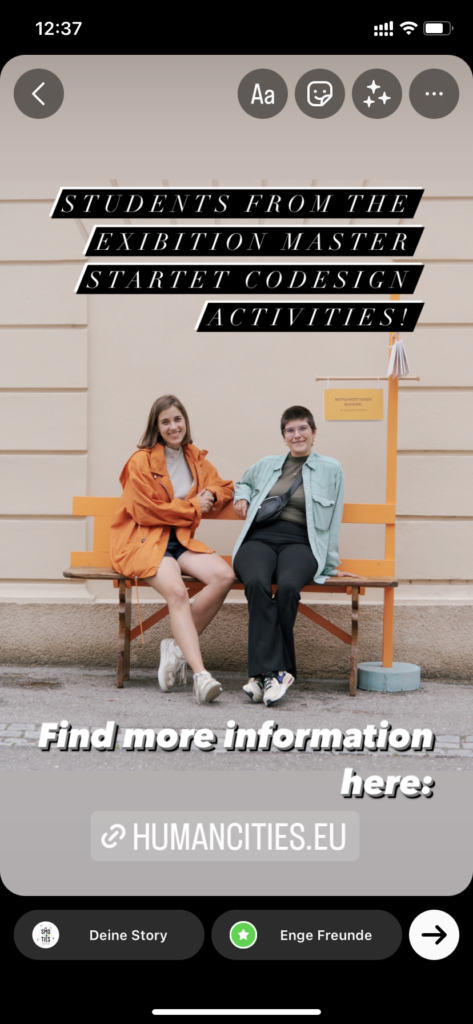 Topics, locations and first prototypes
Using the different tools developed by SMOTIES partners, we decided to focus on the following "Windows on the Future": Project Communities, Beyond Tourism and Distributed Education. They seem to be the most relevant for our remote place.
It has become clear that there has to be a public, well usable space where the people of Oberzeiring can meet by chance or for an exchange. This space should therefore have the appropriate quality of stay. This space exists – actually.
For our co-creations and an exhibition about SMOTIES we have "taken possession" of the Market Square. Placed boards, tables, benches and deck chairs and also occupied the parking spaces, which are in the middle of the square. When the bus came, which uses the square as a turnaround, however, everything had to be quickly moved to the side.
So far we have already implemented a "ride-along-bench", an empty space occupation with texts and sound or a pennant project, which has already been modified.
The main focus in summer 2023 will be on implementing a co-designed prototype for a human centered square. It will be celebrated in a big festival organized by the associations.
Contact person: Anke Strittmatter
Links:
www.silbergruben.at
www.theo.at
www.stbb.at
www.knappenkapelle.at
www.landjugend.at
www.sv1582-oberzeiring.at
Facebook: Freiwillige Feuerwehr Oberzeiring
https://www.fh-joanneum.at/institut/design-kommunikation/