Exposition


SPAGAT! Design Istanbul
---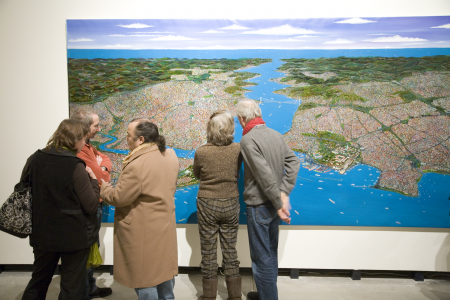 Istanbul position can be compared to a Splits or Spagat, the most difficult and yet most elegant and most beautiful figure in dance. Showing the most significant work of some thirty designers, design studios, and artists, Spagat! Istanbul Design / Istanbul Tasarimi –the second in a serties* of yearly design exhibitions organised by one of the leading German museums, MARTa Herford museum – will not just be the first comprehensive overview of the emerging and extremely exciting, yet totally overlooked and unknown Istanbul design scene. Apart from being an exhibition it will also be a discussion and production platform and laboratory, focusing on the latest evolutions in design in general, while touching on issues such as globalisation and the tension between the centre and its periphery. It will also serve as a kick off for a work in progress that, starting in Germany, will spread to other countries, constantly changing its form and format. Spagat! will hold the middle between a feast, an outcry, a tribute and celebration, an essay, an encyclopaedia, and a quick sketch snapshot, and three-minute-song. But first and foremost –and totally in tune with the nature of design- it will simply be an apartment cum office, where the curator, Max Borka, will actually live and work for the duration of the show, in between the exhibits, and act as a host to the visitors. The notion design event will thus be infused with a totally new content, in an exhibition that announces itself as ground-breaking and historical.
Participating designers, studios and artists
Erdem Akan & maybedesign, Refik Anadol, Sefer Çağlar & Seyhan Özdemir (Autoban), Demet Bilici, Alper Böler, Ela Cindoruk, Nil Deniz & Demirden Design, Omer Ozan Erdogan & Creative Bonanza Gürsan Ergil, Aykut Erol, Arzu Firuz & Paul Huber, Bayram Gümüs, Serhan Gürkan, Joelle Hancerli, Human Cities, Asli Kiyak Ingin , Meric Kara, Şule Koç & Demirden design , Defne Koz, Tamer Nakisci, Demir Obuz & Demirden Design, Mehtap Obuz & Demirden Design, Sema Obuz & Demirden Design, Koray Özgen, Paratoner (Cüneyt Ara, Erdem Keskin, Murat Özbay, Ender Yolcu), Aziz Sariyer, Derin Sariyer, Adnan Serbest, Sema Topaloğlu, Can Yalman, Pinar Yar & Tugrul Gövsa (GAEAforms) u.a.
Venue
Marta Herford

Goebenstrasse 4-10
32052 Herford
Germany
Opening hours
Tues-Sun and on bank holidays 11 AM – 6 PM

1st Wed. of every month: 11 am–9pm.

Closed: Dec. 24, Dec. 25 and Dec. 31.
Opening
17 December 2010 19.30
More
Actuellement

updates
Festival Human Cities: Online video!


updates
The City from the Child's Eye View

Festivals
29 septembre – 03 octobre 2010
---